A website dedicate to games of all favors and varieties, from video games to good old D&D.
Wednesday, January 15, 2020
Posted by

Phil Viverito
at 6:57 PM
No comments:

This is a tiny cabin based on many of the cabins at Schoellkopf Scout Reserve. SSR is a wonder campsite located in Wyoming County, NY.
I have been there several dozen times over the years and it is full of fond memories. On my most recent two trips, we spent time sprucing up the cabins and campsites. I often paint during the day and sketch at night.
This cabin is a cross between Phillips Cabin and Schoellkopf Cabin pictured below. It could probably be used for a hunting lodge in a D&D setting. In my campaign, it's a structure due east of the city of Nace.
While it looks tiny, 25 by 25 feet square in the wilderness is quite spacious and homey.
Build your own Cabin with Legos. Reasonably priced at $29.99. Click the image link to order from Lego.com. I receive remuneration every time you order something, which helps me keep this website going.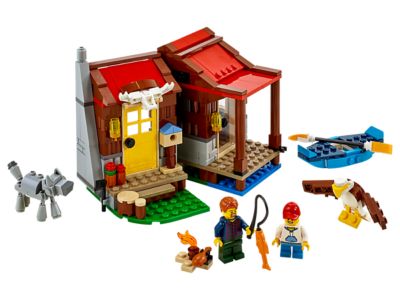 Posted by

Phil Viverito
at 6:34 PM
No comments:

This whimsical tower was the home of an astronomer and astrologer. The man retired many years ago, after serving in the war against the elves. Although it doesn't look like it, the telescope can be replaced with something ol' Harvey called a "Cannon" or perhaps, "Canon". No one is sure. Whatever it was, it helped the magician stop the elves from entering the valleys his tower looks down upon.
In recent years, the tower has been inhabited by 12 students of the stars. They don't seem to be much good as magic users, but the men and women who live here are pretty special when it comes to observing the stars and laying horoscopes.
One of them is even familiar with the foreign principles of card reading, while another has invented a game where the players pretend to be tradesmen in the distant future, trading in luxuries on a "stock exchange" and "social medias". Whatever those are...
Posted by

Phil Viverito
at 4:30 AM
No comments:

Monday, January 13, 2020
I was trying to draw a Roman villa and it came out more like a Frank Llyod Wright. Buffalo is loaded with Frank Llyod Wright homes. They are beautiful and I drive past many every day.
Posted by

Phil Viverito
at 7:41 PM
No comments:

Tuesday, October 1, 2019
I'm warming up today. Just a simple geometric pattern in ink. I won't finish it, it's not the sort of thing to finish. It is just play while my brain and hand warms up. Sometimes work is just play with a purpose. I kind of like the design.
Anyway, this is my first Inktober. I wish I could do a drawing everyday, but I won't. I want to do one or more projects to completion this month. I want to go back to the way I used to draw.
I picked my first subject, Magik from the New Mutants. I particularly love/hate the version of her on the cover of the 50th issue. The style is very nineties, jagged, slashy, primal. It seems to fit with the character. In this particular issue, is not sexed up, but actually reverted to a younger child. There is a sense of disquiet as she battles her way through her demons. I like the fact that they are "her demons".
Anyway, I want to do a copy of this cover but in my own style. It won't be anything like the drawings I have done recently. It will be part experiment and part return to where I started. I'll
be posting updates throughout the month as it proceeds.
If I get to another work, I post that here, too.
Here is to beginnings.
Posted by

Phil Viverito
at 7:49 PM
No comments:

Thursday, September 26, 2019
My players, their children have all failed their saving throws vs. disease. Another session will buy it due to cold and flu season.
So this weekend I want to try something different. I want to do an inked action scene on 14"x17". I normally work on images no larger than 8x11. I started laying it out. Excuse the low quality phone images. This doesn't fit in the scanner.
I have 3 characters converging on a central character.
The lightly drawn figure on the right is an archer readying a shot. She is wearing a pallas, a sort of cloth garment worn over a toga.
The figure on the left has been blindslided with a bolt of energy. She is not quiet on the ground. She will be wearing a gown and doesn't appear to be a typical combatant.
The third foreground character is a man with a sword and buckler or target shield.
The woman in the middle is a magic user with some interesting magical items and powers. First, she has a custom spell called "Disruption". It is very much like a magic missile, except it does 1d4 per shot, shots can hit any living or non-living thing with a to hit roll. It never increases in power, but the number available increases every two levels instead of three. She does not wear any "protective" magic, per se. She wears a wolverine pelt, with an intact skull as a stole. It can be commanded to attack, making defense rather moot. I have only hinted this magic item with a snaking line through the middle of the sketch.
I'm not sure if this is the one I will be working with. I think I can find some images which will help me get the proportions correct. Something is very wrong with the bow right now and I should have drawn a horizon line first.
Not bad for a first shot at something I've never tried before.
Posted by

Phil Viverito
at 6:48 AM
No comments:

Wednesday, August 28, 2019
More horse drawings and paintings. I find horses to be fascinating, but daunting as subject matter. The blue horse painting was done a Pinot's Pallet on our 15th anniversary. My wife also made a matching painting. There was no good classes that week, so I came up the the idea of incorporating a heart shape, a copy of a master and a horse. My wife had no idea what she was painting at the time.
Rough sketch for painting below.
Franz Marc style copy of a master.
Acrylic.
The above painting as it was being worked.
I believe this is my wife's copy.
A robo-horse from Robotech.
Posted by

Phil Viverito
at 12:57 PM
No comments:

I like drawing horses. I have collection of Equine themed artwork in a variety of media.
Horse Skull, chalk and charcoal
The waterhorse was for my wife, Kitty, before I gave her the nickname "Kitty". In the front leg of the first image, you can see where I was trying to work in a "J" and an "E". I was flummoxed as to how I would get an "N" in there, so I abandoned that plan.
Waterhorse - in progress. Sharpie .05
Waterhorse - complete. Sharpie .05




Waterhorse - Complete. Permanent Ink and Skin.
The tattoo artist was very good and there were only small changes.
5 minute horse - completed, oil paint and post processing
Posted by

Phil Viverito
at 12:42 PM
No comments:

Thursday, June 27, 2019
This week, artwork has been on my mind. In July, I am going to challenge myself to learn to draw hands and feet. Those are tough subjects, especially if you have little skill. If only I drew more, I would be a better artist.
For inspiration in this self-challenge, I found a book
Drawing for Printers
by Ernest Knaufft. It was published in 1899 and is available at
Gutenberg
. It is a treatise printers, not a how to book. Since I also like writing, it may be beneficial for a couple of purposes.
At the very least for publishers of Old School Gaming products, this sort of book captures the style of early game publishers. If you would like a more modern look at publish games, check out
A Brief Study of TSR Book Design
by Kevin Crawford. I did a
review
of it about a year ago. I wish I had found it before I started developing my BD&D/AD&D supplement,
Zero to Hero
.
Posted by

Phil Viverito
at 12:06 PM
No comments:

Sunday, November 13, 2016
Posted by

Phil Viverito
at 4:56 PM
No comments:

Monday, December 28, 2015
I've been doodling to get back in the habit of drawing. Tonight's offering is a Norse themed church.
Posted by

Phil Viverito
at 9:54 AM
No comments: