This post comes courtesy of a long-time reader and benefactor, Blackrazor who gifted me a great many books and treasures.
Alistair Reynolds' Revelation Space is an excellent series of books however, Reynolds manages to zig-zag triumphant epics and eldrich horror in a way that does not make the reader envy the characters. There are too many Faustian endings. It is not the sort of series that makes excellent roleplaying, the players would feel cheated or screwed.
Except for one game... called
Golgotha
. It was made for the Revelation Space. Specifically, it pairs with a pair of short stories called Diamond Dogs, Turquoise Days. Sure, it's a hack but sometimes hacks make the most sense.
In my last post, I wrote a great deal about the TV show The Rain. Enough to make the reader interested in watching it. This time, I would like to tell you about Golgotha more than Revelation Space because it appears to me that Golgotha is Revelation Space in RPG form.
Golgotha is a hacked OSR game, where players generate their characters by special rules. Basically, if one stat is over a specific amount, the next stat must be 7. Once the 7 is assigned, you go back to random generation. It's good that the rules allow you to increase stats because sometimes the player will have some stinkers to start. That's pretty good. At least, better than D&D 3.x where everyone is racing to 18.
This is a heavily modded OSR D&D-style game. Black Hack in particular. Rather than using tables, each stat is used as a target number for tasks and usually low rolls are better. The lack of tables makes this edition of ORS D&D very rules-light. Damage is based on class, abilities also on class. Oddly, characters have no Con bonus for hit points. This seems to be a scaling issue, where gobs of hit points would be detrimental to gameplay.
At every other level, you get a talent that improves your character in specific Golgotha-themed tasks. And what an amazing list of tasks it has. Your goal as a character is to obtain materials for trade with an alien species for more power... or quirks. Rather than being trapped in the typical grind for experience, the completion of a task leads to more power. Not only do characters become more experienced and powerful, but they also get special powers based on what they collect for their alien overlords. Participation is equal to specialization because those other random skills make a character unique. It's D&D in Space plussed with fewer rules. That is a unique twist.
Before I go, let me tell you a bit about the premise of Diamond Dogs which will totally explain why it's a great fit for Golgotha. In the 25th century, Roland and Richard discover something they call Blood Spire, clearly an alien artifact. Roland builds a team to crack the secrets of the Spire: a hacker, a gene-spliced and mind-altered mathematician, and a surgeon/body-modder, plus Richard.
Each level of the Blood Spire has a specific mystery to be solved. Sometimes it is a difficult mental problem, other times it's a physical challenge. Failure results in ever-increasing peril. Level 1, get pricked in the finger. Level 10? Into the meat grinder, with no saving throw. Level 50, oh... you get the picture.
It soon becomes obvious that there are several dark forces at work. Roland may be fixated on problem-solving in general or perhaps bewitched into delving deeper into the Spire. The hacker and the body-modder have their own goals. Richard and the mathematician have some history between them. What should be a linear story develops twists and curveballs. And the end has the biggest kicker.
Go ahead and check out Diamond Dogs, Turquoise Days : Tales from the Revelation Space Universe on AbeBooks.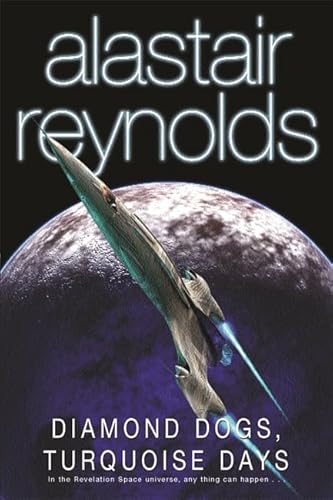 And don't forget to order
Golgotha
from Drivethru RPG.
If you have a Netflix account, you can watch "Love, Death & Robots" for two adaptions of Reynolds stories called "Beyond the Aquila Rift" and "Zima Blue". Not for children.